Obscure Productions is founded to make international films, especially within the China market. Few foreign filmmakers can successfully take advantage of the cost savings in China or can produce stories that resonate within the Chinese culture. We aid film makers in making Chinese films that are culturally accessible to an international audience. That is our niche.
We are a Beijing-based film and video production company with experience in both documentary and narrative film as well as corporate video. We work with and support the community of independent Chinese and Expatriate film makers.
Analysis is awaiting final rendering of CGI sequences
Currently in post-production
Analysis Tina is a 13-year-old maths genius in an isolated world where solid and definite answers given by computer analysis are more comforting and secure than the ambiguity of human relations. This mathematical savant fills her world with imaginary visions rich with mathematical fantasies.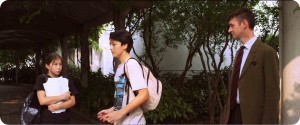 Sofie Fella (l.), Julian Henry and  Charles Mayer in ANALYSIS
However, her aspiration gets questioned by an unlikely mentor, Mr Richardson. This science teacher shares her genius but challenges her to connect with the human world. When Tina's family life is threatened, she must make a choice between retreating deeper into isolation or solving her 'human equation'. Read more
回家 – The Journey Home In Development
The Journey Home is a film production in development by Director/Screenwriter Richard Trombly.
There is no stronger image for any of us than the concept of going home. It evokes powerful feelings in us, since we have all grown up and left behind that home we grew up in. This is not a wandering road film, rather each scene in this film is crafted to be there as part of the spiritual journey of this child as she explores and defines not only who she is, but where she belongs in the world… Director Richard Trombly
THE JOURNEY HOME is a story of a young Chinese girl orphaned and sent to live with relatives and her quest to find herself and the meaning of Home all against the backdrop of modern China.