Obscure Productions was founded in 2008 with the production of two Mandarin Chinese short films by screenwriter/director Richard Trombly  DENGDAI等待 and  GUA SHU SHI JIE 瓜熟时节 .
Since that time, we have been specializing in consulting and cultural localization of productions. We also provide services including: screenplay development /"script doctoring" editing, script translations and subtitle translations.
We also do film marketing and Media Relations/ Public Relations work in traditional media and social media channels.
Analysis is completed and submitted to festivals
Completed Production 
Analysis / Tina的方程式 – Tina is a 13-year-old maths genius in an isolated world where solid and definite answers given by computer analysis are more comforting and secure than the ambiguity of human relations. This mathematical savant fills her world with imaginary visions rich with mathematical fantasies.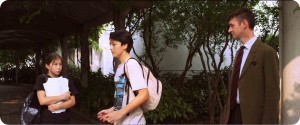 Sofie Fella (l.), Julian Henry and  Charles Mayer in ANALYSIS
However, her aspiration gets questioned by an unlikely mentor, Mr Richardson. This science teacher shares her genius but challenges her to connect with the human world. When Tina's family life is threatened, she must make a choice between retreating deeper into isolation or solving her 'human equation'. Read more
ANALYSIS trailer

ANALYSIS / Tina的方程式 on Youku: http://v.youku.com/v_show/id_XOTAzMjkwNTE2.html