Obscure Productions is founded to make international films, especially within the China market. Few foreign filmmakers can successfully take advantage of the cost savings in China or can produce stories that resonate within the Chinese culture. We aid Chinese film makers in creating local films that are culturally accessible to an international audience. That is our niche.
We are a Shanghai-based film and video production company with experience in both documentary and narrative film as well as corporate video. We work with and support the community of independent Chinese and Expatriate film makers.
Analysis is completed and submitted to festivals
Completed post-production
Analysis / Tina的方程式 – Tina is a 13-year-old maths genius in an isolated world where solid and definite answers given by computer analysis are more comforting and secure than the ambiguity of human relations. This mathematical savant fills her world with imaginary visions rich with mathematical fantasies.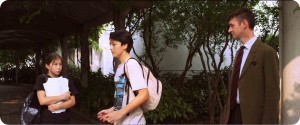 Sofie Fella (l.), Julian Henry and  Charles Mayer in ANALYSIS
However, her aspiration gets questioned by an unlikely mentor, Mr Richardson. This science teacher shares her genius but challenges her to connect with the human world. When Tina's family life is threatened, she must make a choice between retreating deeper into isolation or solving her 'human equation'. Read more
ANALYSIS trailer

ANALYSIS / Tina的方程式 on Youku: http://v.youku.com/v_show/id_XOTAzMjkwNTE2.html