​POPCORN AND SHORT FILMS AT THE PEARL
​The Pearl is hosting ​some great ​China​-shot ​short films with a number of the directors on hand to introduce their work. Obscure Productions' own short film ANALYSIS, directed by Richard Trombly will be screened.

China Independent Film Makers Association 
Short Film Showcase

Venue:The Pearl 
Phone number and wechat: 13764889962, 
Web: www.thepearl.com.cn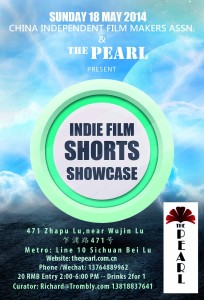 Metro: Line 10 Sichuan Bei Lu, exit 1 or 2, walk east on Wujing Lu
Address: 471 Zhapu Lu, near Wujin Lu , Hongkou district, Shanghai

乍浦路471号, 近武进路 , 虹口

Time: 2:00-6:00 PM , 18 May 2014, Sunday

20 RMB entry – Drinks buy1 get one free

1 FREE Popcorn with entry

An afternoon of indie short films with director Nip Ling from Hong Kong, Beijing Director Gao Yaru, Richard Trombly's latest short, Taiwan-native Jeffrey Chu's most recent work and more.​